I like to simplify things. NO, scratch that.  I LOVE to simplify things.  Life, my to-do lists, day-to-day tasks and chores, my fitness routine and, most of all, my cooking and the time I spend in the kitchen preparing meals.  I am always looking for ways to make dinner in a way that DOES NOT involve spending hours in the kitchen, especially those between 4 & 6 PM.  I don't know about you, but after a busy day of running around, working and getting things done, the last thing I want to do is stand on my feet cutting, chopping, slicing, dicing, sautéing or boiling! I would much rather spend that time relaxing or doing things that I WANT to do while dinner cooks itself….like catch up on a Netflix binge!!

 And let's not forget all of those nights where we cannot physically be in the kitchen cooking due to our kid's activities so we must find another way to get dinner on the table that doesn't involve the drive-thru….
One way I like to simplify my cooking routine is by prepping dinner early in the day (or early in the week) and putting the ingredients into "casserole" form for the oven (if I am going to be home) or throwing them into the crock-pot to say "DONE"……at 9am!!  Seriously, most foods that you would normally cook on the stovetop can be made either in casserole form or in the crock-pot…..and my "Crock-Pot Fajitas" are one of those dishes!
If you like fajitas (who doesn't?!?!) and want to make them at home WITHOUT spending an hour or more at the stove staring at the meat and veggies waiting for them to cook, then this is definitely the recipe for you…..enjoy!! xo
Crock-Pot Fajitas
Ingredients:
(Use organic when possible)
2 pounds of organic chicken breasts, sliced into thin strips
3-4 small to medium sized grass-fed beef or bison steaks, sliced into thin strips
1-28 oz. can of diced tomatoes
2 green bell peppers, sliced thin
2 red bell peppers, sliced thin
1 large onion, sliced thin
1 Tbsp. fresh minced garlic
2 Tbsp. fresh lime juice
Handful of fresh cilantro, chopped
Soft tortillas (optional – can use romaine lettuce leaves listed below instead)
Large romaine lettuce leaves (optional – can be used to serve meat/veggies in instead of the tortillas)
Organic sour cream (optional)
Guacamole (optional, BUT highly recommended!)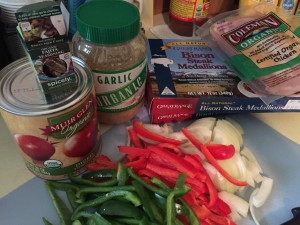 Instructions:
Place the tomatoes, peppers, onions, garlic, chicken and steak in your crock-pot. Sprinkle the fajita seasoning on top and stir until everything is well coated. Add the fresh lime juice and cilantro and then stir until they are mixed in.  Set the crock-pot to low and cook for around 8 hours, stirring occasionally throughout the day if you are home. 
Serve the fajitas in the tortillas OR in the large romaine lettuce leaves and top off with the sour cream (if using) and the guacamole.  DEE-lish!!! 
RECIPE NOTE:

  There may be a bit of liquid in the crock-pot from the tomatoes and meat juices so either drain it out before serving or use a slotted spoon to get your fajita filling…..nobody likes a soggy tortilla that falls apart from too much liquid!!!  
BONUS:  These are my leftovers in my "Fajita Salad" for lunch today!!!!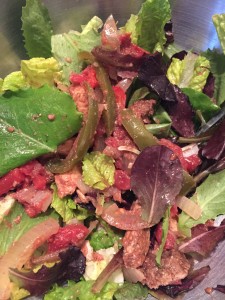 If you like this recipe and want MORE recipes, workouts and
fitness, nutrition & lifestyle tips sent right to your inbox,
then please subscribe to my email newsletter

here

. In addition to
all of the goodies listed above, my VIP subscribers
always get early access (and discounts) to any
programs I offer. So what are you waiting for?