Last week was Rosh Hashanah and we headed to my sister's for dinner. My assignment…..A BIG ASS SALAD! (or a "BAS" as my coach and mentor Jill Coleman of JillFit Physiques likes to call them!!)  This was no problem for me….I love making salads, adding tons of veggies and lots of color, BUT, how could I show up without some sort of a dessert?  I mean, that is and always was "my thing" ever since I was a kid....baking, baking, baking!!
I decided to play around with the "apples and honey" theme of the holiday and create some sort of a healthier version of after dinner deliciousness!!  I ended up making 2 desserts, one of which we LOVED and one that was just so-so and will most likely NEVER make it to this blog!!  The recipe for the delicious dessert is below…..please give it a try and let me know how it turns out for you!!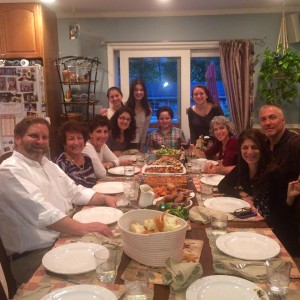 all of us, minus my oldest daughter and my nephew, both away at college!!

BAKED APPLE – PEAR CRISP
 Ingredients: (choose organic whenever possible!!)
FILLING:
5-6 apples, peeled, cored and thinly sliced (can use combo of different apples if you like…I used granny smith, braeburn and gala!!)
1-2 pears, peeled, cored and thinly sliced
Juice of one orange (about ¼ cup)
1 Tbsp. lemon juice
2 Tbsp. raw honey
1 Tbsp. pure maple syrup
1 Tbsp. coconut palm sugar
1 Tbsp. cinnamon
¼ tsp. nutmeg
Dash of Himalayan sea salt
CRUMBLE TOPPING:
1 cup almond meal/almond flour
½ cup walnuts, finely ground + few larger chunks
2-3 tsps. pure maple syrup (based on your "sweetness" preference!)
2 Tbsp. melted butter (organic/from pasture raised cows) or coconut oil
1-2 tsp. cinnamon (based on your taste…I personally like a lot of cinnamon!!)
Directions:
Preheat oven to 350*.  Grease a pie dish with coconut oil (or spray) and set aside.  Mix all filling ingredients together in a large bowl and place them in your greased pie dish and bake for 45 minutes.  While this is baking, mix all topping ingredients in a small bowl.  Mix with your hands until you have a "crumble" consistency.  After the 45-minute bake time is up, remove the pie dish from the oven and sprinkle the crumble topping, along with some larger walnut chunks, on top.  Place back in the oven and bake for an additional 20 minutes or until golden brown!!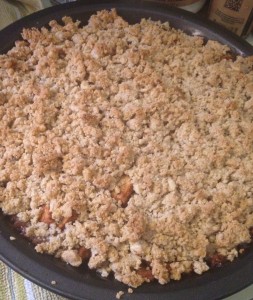 the delicious end result!!! YUM!!!